Gibraltarian international striker Sykes Garro is confident he won't have to wait long for a goal ahead of tomorrow's late match against Manchester 62.
"Even though Liam Walker left in the summer I still have to train as hard as ever to get into the squad," said the 24-year-old local striker. "All of the Gibraltarians need to prove we have the quality to play in the team so along with Ethan Jolley, Mikey Yome and Stefan Olivera we are each just one more man in the training sessions."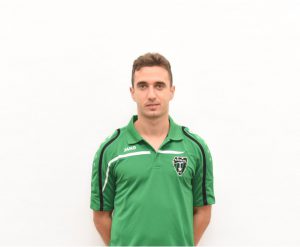 Garro – who got a call up to the national side this year – had a golden chance to score his first of the season against Lynx but he misjudged it, as he told Europa FC. "I saw the keeper come out so I opted to come inside but I put my foot under the ball and it went just over the bar," he recalled. "But I believe my first of the season will come if I am patient and continue to work hard.
"In terms of club form we had a bit of a slump at the beginning but sometimes things don't work out how you expect them to. But now, with the help of players like new signing Carreño we hope to continue winning the last games of the round before we break up for the long winter break."
Victory
This was the idea put across by manager Jonathan Parrado who saw his side show some of the resolve and domination on Friday night that won them the league and Rock Cup last season."We need to stay in the same mindset against Manchester 62 because we are now getting to a level which makes us very capable of keeping it up," he said.
Speaking of the 2:0 Lynx win last Friday Parrado called it "an important victory" after goals from his front two: "The fact that both Kike and Carreno are scoring is good for their self-esteem as they are the players charged with giving us success on the field. Off it, all the technical team is doing its best for Europa so that it can be where it deserves.
"They were three valuable points which we value greatly because as every club that plays us are always at 200%. But this is the sort of pressure we thrive on, so at the end we just started to pass it around as Lynx – who got their first victory in the previous game – tried to make a comeback."