Bad luck and the pressure of being League Champions are the reasons for our poor run of form at the beginning of this season.
Europa manager Jonathan Parrado talked frankly to us about how we really do not deserve our lowly league position and expressed his optimism for today's match against St Josephs.
"We are confident in getting the win today," said Jonathan 'Johny' Parrado. "The players are working very well together and they deserve it.
"With all humility I think by merit we should have won many more matches and got much more points this season. I don't like to talk of luck in football but maybe the game has just not been fair with us this during this campaign."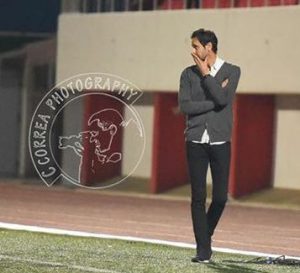 The results really haven't gone our way this season from the penalty shootout in the Pepe Reyes Cup curtain-raiser to the way some clubs have managed to get goals from nothing to reduce our points tally to four in four games so far.
But he has never thought of throwing in the towel, instead believing we need keep on backing our club because the players can turn it around.
"In situations like this we must continue working and keep our confidence in the players," said Parrada. "We must have blind faith in them because they're the best we have at Europa FC and we have to believe in their abilities and what we are working for. If we continue in this way, their effort and hard work will be rewarded."
Los Barrios-born Parrado told us that goalscoring chances have come and gone, but despite our domination in many matches the ball just didn't want to go into the back of the net.
"We have had so many shots on goal this season, but they just don't go in!" said a frustrated 38-year-old. "On the other hand, our rivals each week are scoring from next to nothing.
"The last match was a reflection of that dynamic. The first two shots Phoenix had on goal went in and we were two down with five minutes gone.
"We then scored three to take the lead and had chances to make it 4-2 but instead Phoenix scored to draw the game. Even after that we had more chances to win but it just didn't work out.
"I believe this boils down to our desire to get the results we need from the word go. But I'm proud of the way the players reacted when we went down to manage to get within a few minutes of the win. We hope to show the same sort of spirit today."